Standing in front of the paint counter surrounded by every shade of the rainbow can be daunting. Even the names of the colors can be intimidating. "Death by Chocolate"…a deep shade of brown. "Come Sail Away" a light and tranquil blue. You might think you're a fan of "Mustard" until you see a similar shade from a different brand…only this one's called "Waving Wheat". It all comes down to the mood you're trying to set.
Every year paint companies come out with the top trending colors for the year, and 2019 has some choices we think you might like. Here are just a few…
A new one from Benjamin Moore called "Metropolitan" has been popular amongst living room walls. It is considered a neutral with its gray, cool undertones. It could also add a sleek touch to your kitchen.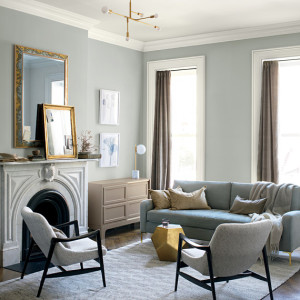 One of Clark + Kensington's top color's for 2019 is "Stainless Steele". It is described as a color that can brighten up any space. Best represented in the living room, bedroom, or as an accent wall. Oranges and charcoals compliment this color very well, as you can see in the photo below.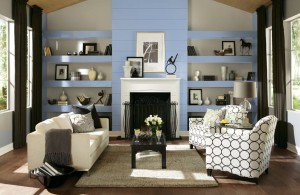 "Night Watch" is PPG Diamond's unique shade of green. This color has the power to bring nature indoors. It would be great in a dining area or as an accent wall. Bringing in wooden accessories is a great way to further that connection to the outdoors in your space.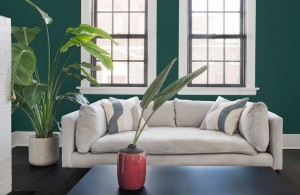 Looking for something bold? Valspar might have just the shade for you…it's called "Orange Slice". It is described as a zesty orange, and would be perfect in your home office. Grays, yellows, and greens are all suggested accent colors for this shade.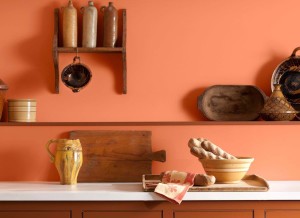 Behr has a color described as a soft navy, called "Blueprint". Blue is a classically calming color, so it makes sense that people consistently gravitate towards it. Naturally, it fits well in a bedroom or bathroom. There are so many accent colors that go well with blue. A few favorite accent colors are shades of cream and white.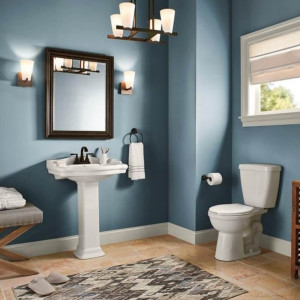 If you have plans to redecorate in 2019, these colors might give you the inspiration you needed to start planning. At Spear Paint we specialize in the repainting of fine homes/estates. Call us today at 713-664-5150 for an estimate on your next project.