When we think of gathering in the home, the living room probably comes to mind. However, according to surveys, the kitchen is the most used room in the house. Some even estimate that we spend around 12% of our lives in our kitchens!
With so much of our time spent in this space, it's important to consider what kind of environment your kitchen design creates. Did you know that color is a powerful communication tool? According to the psychology of color, the color of your walls, cabinets, and appliances can all have a profound impact on your mood.
What is your kitchen saying?
Red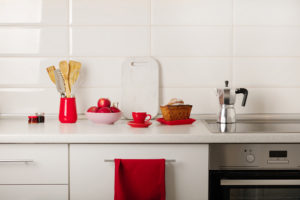 Ever wonder why so many restaurants incorporate red into their decor, especially their tablecloths? Well, that's because red makes you hungry! Red is considered an energizing color, which increases your heart rate, and thus, your appetite. Orange and yellow have a similar effect. This color can be a powerful tool when used as an accent wall, or in dishware and towels, as seen above.
White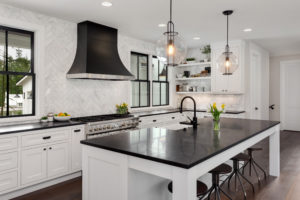 White evokes a sense of calm and serenity. It also feels clean and classy – making it especially popular at the moment! White makes a space feel open and airy, but we recommend you ground this color with contrasting tones like dark grey. You can also use interesting texture and patterns to add depth, as seen in the tiles of the wall above. These details help to keep the room feeling clean and sleek, but not cold or sterile.
Green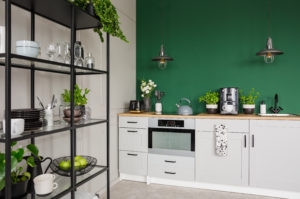 As one would expect, green reminds us of nature. It's also a color that makes us feel safe and balanced. Whether in the form of houseplants or a bold accent wall like the room featured above, adding green to your kitchen is a unique and beautiful way of making your kitchen feel fresh.
Blue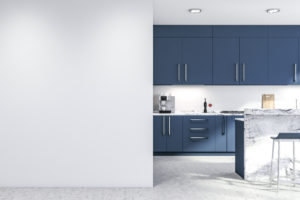 Blue is considered a calming color. Using elements of blue may help you relax if your kitchen is a space you often feel stressed in. Having the opposite effect of red, blue makes some people feel sleepy, which may make them lose their appetite. However, blue also has a cooling effect, and can help a kitchen in hot climates feel a little less oppressive.
Feeling inspired to make a new statement in your kitchen? Contact Spear Paint today, and we'll help you refresh and redefine your space!